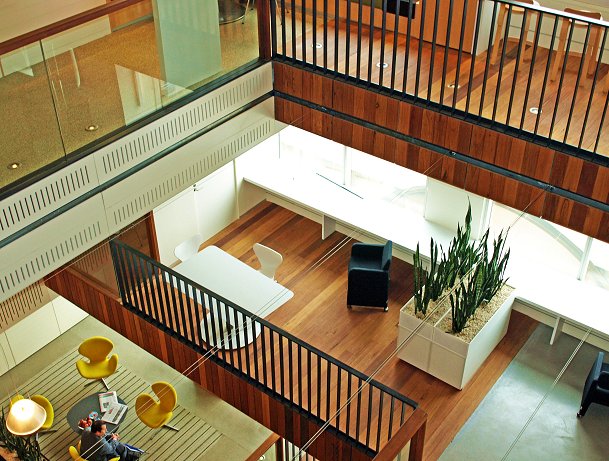 Project Description
Stockland created its new Sydney CBD Office, 'Stockhome' in Sydney in 2007. It is a leading example of how to recycle an existing A Grade 1980s office building to achieve environmental excellence, creating a workplace that fosters employee well being and enhanced business productivity.
The project consisted of 8 levels of high quality office fit out with an audio visual component of 25 rooms including a state of the art board room and 3 Video Conferencing facilities.
The project was designed to target a 6 Star Green Star rating with an ABGR Rating
of 5 and was the first project to achieve the 6 Star Green Star Office Interiors v1.1 award by the Green Building Council of Australia (GBCA).
All rooms fitted with audio visual equipment use the Stockland voice over I.P. phone handset to control the functions of the rooms. The phones feature touch screens which provide menu pages for the main controls such as volume, screen control and device selection. Experienced users can access more detailed pages and control every feature of every device. The implementation of such a control option negated the need for expensive touch screens and provided a high quality system at a much reduced price.