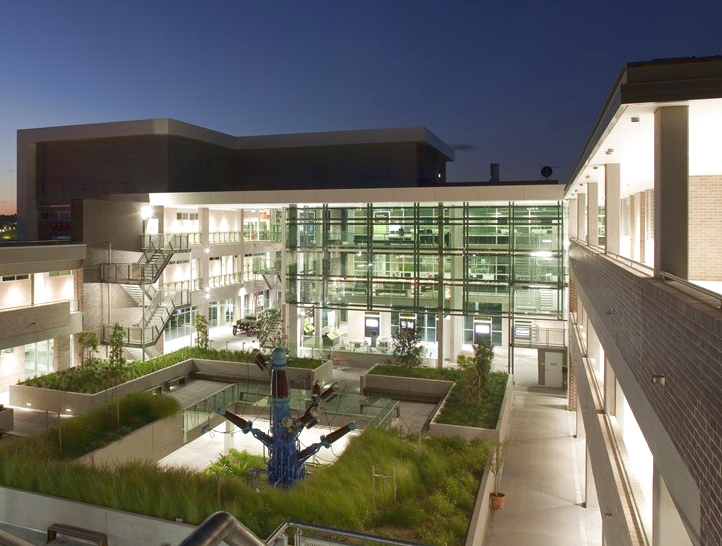 Project Description
Ausgrid (formerly Energy Australia) has completed its $50 million development at Silverwater for a Learning Centre to train the company's own apprentices, staff and external groups. The project has been awarded a 6 Star Green Star Design rating by the Green Building Council of Australia.
Ausgrid is a major trainer of apprentices in NSW with more than 520 apprentices currently employed. In addition, Ausgrid provides technical training in specialist areas to both staff and external clients. The new Technical Learning Centre allows Ausgrid to centralise and coordinate training activities on the Holker Street site at Silverwater. The new facility provides an environment which fosters excellence in learning and practice. It is expected that the facility will be regarded by the industry as best practice ensuring that Ausgrid is provided with top quality staff in sufficient numbers. The site occupies an area of 16,351m2 and is located within the Silverwater Industrial Area.
The development has achieved a 6 Star Green Building Council of Australia (GBCA) Green Star rating. This rating was achieved by energy efficiency through passive design elements such as natural ventilation, daylighting sun shading as well as active elements such as trigeneration and geothermal heat exchange systems.
A highly efficient mechanical system for training rooms is supported by on site power generation including building integrated photovoltaics and solar hot water. Water is collected and treated on site for reuse and all stormwater is treated and conveyed from the site with water sensitive urban design elements. Site emissions are limited through the use of zero ozone depleting refrigerants and low volatile organic compound finishes. VOS Group managed the ESD elements of the project including submission to the GBCA, and undertaking the engineering design of all building services.