VOS GROUP Workplace health precautions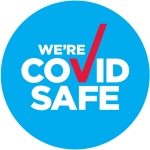 VOS Group has been monitoring the COVID-19 pandemic in Australia and regularly evaluating our internal processes.
We have put in place a response plan for dealing with the risk posed by COVID-19 to our staff, visitors, clients and to other people we encounter in operations across our organisation.
VOS Group are following recommendations in accordance with the live advice provided by the Australian Government's Department of Health, SafeWork NSW, The Department of Foreign Affairs and Trading's Smartraveller service and continue to monitor the situation daily.
Our goal is to minimise the risk of exposure for our employees, sub-contractors, clients and our business operations.
Our ongoing approach is:
Limiting Staff Movements
• VOS Group has implemented a policy to limit staff movement and direct contact with others. This includes organising teams to work from home and/or designated remote locations.
• Staff if feeling unwell are encouraged to get tested for COIVID-19 and to self isolate. Staff must be cleared of COIVID-19 prior to any contact with work colleagues and the general public.
• Our up-dated work practices enable staff to complete most tasks while working remotely even while isolated.
• Interstate project travel has been restricted with local representatives in the state or territory the project is based undertaking site and meeting attendance as required.
• Staff are encouraged to travel out of peak hours and to wear a nose and mouth coverings. If travelling via public transport to maintain recommended seating distancing. Utilisation of private transport alternatives is also supported.
Meetings & Inspections
• Staff are encouraged whenever possible to minimise person to person meetings. Instead utilising telephone, email, and voice/video conferencing to conduct meetings.
• Technologies such as Skype, Go To Meeting or Zoom meeting are being used where-ever possible.
• If a person to person meeting is required then
Observe the correct social awareness and do not shake hands. Do not stand too close to people, enact the 1.5m distancing and 4m² per person recommended actions.
Ensure adequate general and personal hygiene and do not share meeting materials. Utilise hand sanitizers and wash hands pre and post meetings.
Inspections and meeting attendance are to be minimised and only when agreed between the organiser and VOS Group.
In Office
• All staff and visitors are required to complete a sign in register of attendance.
• The new office location includes higher partitioning providing increased barriers and spacing between work stations
• Prohibiting the use of other person's desk/workstation, including limitations on hot-desking.
• Minimal staff working in the office on any one day.
• A vigorous hygiene regime has been implemented with sanitiser distributed throughout the office.
• Limitations on team meeting size.
VOS GROUP PTY LIMITED
DONAL O'SHEA
Managing Director